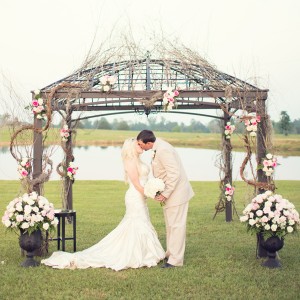 Summer weddings can be very unpredictable. When planning a summer wedding you need to think about every situation that could happen, such as wedding guests becoming dehydrated, gusty winds, excessive heat, etc. It is best to make sure the location of the ceremony and reception has an adequate amount of drinking water. The worst scenario for an outside summer wedding is having your wedding guests or the bride & groom become dehydrated. If the ceremony is outside, place water bottles on each seat along with a paper fan to keep guests cool in the heat.
Remember to have as much shade as possible. Renting a tent for an outside reception is ideal. Having direct sunlight can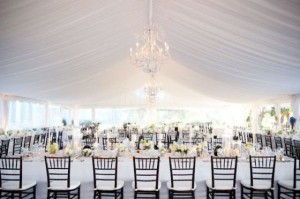 impair some of your important pieces of the wedding such as, your wedding cake and wedding flowers. Be sure to talk with wedding professionals to find out the best type of icing and wedding cake should be used for a summer reception. Ask the florist to make up a simple second boutonniere for the groom. Flowers will begin to wilt in the excessive heat after a few hours.
Talk with your photographer about the perfect time to take wedding photographs. The best lighting to take photographs is in natural light. You don't want to take photographs when there is full sun around noon. Think about morning light or lighting near dusk. Make sure that you are able to get photographs in before the end of the day when there is not natural light.
Remember that weather can be unpredictable in the summer. Be prepared for the worst. Where will the ceremony take place if the weather turns suddenly?