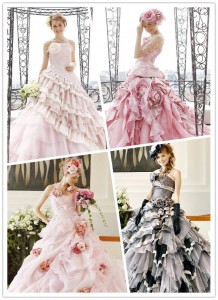 Wedding gowns are continuing to change. This year, the wedding gown trend is unique and not the traditional white wedding gown. Inspired by celebrity wedding gowns, wedding gown designers are adding color to their designs. You may find many colored wedding gowns in pink, blue, red and even black hues while shopping for your gown. These colors are staples for a unique and nontraditional wedding.
When looking for a colored wedding gown, keep in mind the meaning behind these colors. Find out below what these colors represent.
White: White has been is the traditional color of a wedding gown since Queen Victoria started the trend of wearing white on her wedding day. It is associated with goodness & innocence and is considered to be the color of perfection. This color will always be in bridal fashion for the traditional bride.
Pink: The color pink represents freshness, purity, love and good life. Some celebrities wore pink on their big day including Jessica Biel.
Blue: Blue was originally the traditional color to wear on your wedding day until Queen Victoria wore white. Blue represents calmness and peacefulness, stability, security and loyalty.
Red: Red is a very emotional color. It can mean many things such as, love, passion, energy, strength, and power.
Black: The color black may be an odd color to wear as your wedding gown, but it is known to be a color of elegance, class, style, and wealth.
If you are not a traditional bride and want to add something unique to your wedding, consider a colored wedding gown. Be open to the idea when shopping for a gown and try a few on! What color choice will you be your wedding gown?