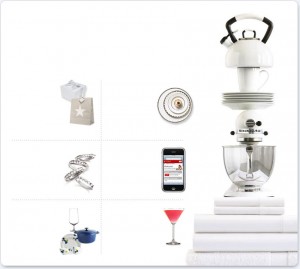 As you begin to plan a wedding, the sheer magnitude of details can be overwhelming.  But one item that should be considered early is your wedding registry.  Our editors often point the bride-to-be towards Macy's as a place to find all the help you need.
It's important to start this step, since your Great Aunt Bertha wants to purchase your present from the moment you announce the engagement.   And it may seem like a long way off, but here's a few tips on how important your registry choices can be after you leave the wedding ceremony:
1. Somebody has to haul all the gifts from your reception location to your new home.  Macy's minimizes that work for your wedding party, by offering shipping to your new home.
2. The checklist for a wedding often falls short when it comes to the things you need when you get home.   Macy's has all the products to set up your home, including bedding, towels, and kitchen goods.  Coming back from your vacation, you'll want your home to feel comforting but also fresh as you start your lives together.
3. No matter how many practical necessities you already have, your guests are going to want to purchase you a wedding gift, so you should add some unique items to your list.  Consider vases, serving dishes, and artwork that will be with you forever.